Samurai-Cam® Live Update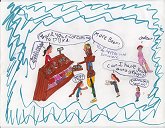 Here is the artistic interpretation of a live Samurai-Cam® shot recorded earlier today showing the Samurai valiantly helping himself at a convenience store. Click the thumbnail for the full-size view.
Artist: Ivey Brown
Find Appliance Parts & Diagrams Here
Enter a model number, part number, type of appliance, brand, or even a part description.
365-day return policy on all parts ordered through this site!