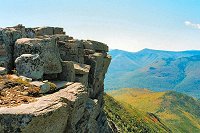 I finally bagged the Bonds, the peak-bagger's nemesis. Since this would've been a 22 mile dayhike, my semper fi canine hiking bud, Ouzo, and I did this as an overnight backpacking trip. We bagged all three Bonds, Bond Cliff, Mt. Bond, and West Bond, on Thursday and camped in the shelter at Guyot campsite Thursday night. Then on Friday, we returned via the same trails and bagged 'em again. About eleven miles each way. Perfect weather, clear skies, chilly but not cold, and we just missed the snow and hail storm that blew through the White Mountains on Wednesday. Stunningly clear views of a snow-capped Mt. Washington from Mt. Bond. You can feast your peak-bagging squinties on all my photos from this most splendiferous of hikes ratcheer.
Find Appliance Parts & Diagrams Here
Enter a model number, part number, type of appliance, brand, or even a part description.
365-day return policy on all parts ordered through this site!