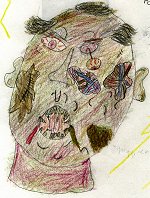 I just got one of those cool web cams, you know, those X-10's that you see in popup ads everywhere you go on the web? Yeah, one o' those. Well, I finally broke down and bought one. It was easy to set up and seems to work pretty well. I have it set up here on top of my monitor, taking pictures while I'm working. Here, check out the latest shot from the live Samurai Web Cam.
See you later.
Find Appliance Parts & Diagrams Here
Enter a model number, part number, type of appliance, brand, or even a part description.
365-day return policy on all parts ordered through this site!