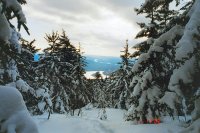 Winter is loosening its grip on us up here in New Hampster. And as we watch it melt away, it's like saying goodbye to an old friend. It's been an especially long winter, distinguished by several kick-ass snow storms and scores of sub-zero days with rare and challenging hiking conditions. I did lots of snowshoe hikes this winter but the best ones were Mts. Welch and Dickey in December, North Kinsman in January, and Carter Dome in February.
So while we say goodbye to our old friend, Winter, we also look forward to what is called Spring in most parts of the Northern Hemisphere and is affectionately dubbed Mud Season up here in the great Live Free or Die state. But I thought it was only meet and right that I put together a collection of photos to commemorate the glorious and awesome Winter of '03. Enjoy!
audblog audio post
Find Appliance Parts & Diagrams Here
Enter a model number, part number, type of appliance, brand, or even a part description.
365-day return policy on all parts ordered through this site!