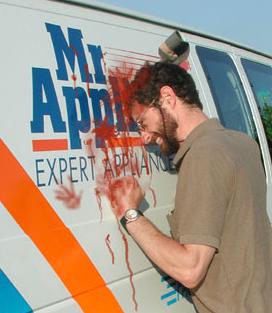 As a little boy, Samurai Appliance Repair Man showed a strong talent for hardly anything. Even in school, he was at the top of his class in mediocrity. Later, when he was kidnapped by a marauding band of sheep, he developed other important life skills, especially making animal noises and licking himself. Those skills would serve him well after he returned to civilization in his career as a volunteer in government-sponsored mind control experiments. Unfortunately, both he and his government programmers would later suffer nervous breakdowns and become institutionalized.
After being released from the New Hampshire Institute for the Hopelessly Insane, Samurai Appliance Repair Man set out to build a self-help appliance repair website, suffering from delusions that broken appliances mock and dishonor him. Although still a very sick man, the Samurai does offer live, real-time help at his website. If you live in or near New London, New Hampshire, he also offers in-home appliance repair services.
Find Appliance Parts & Diagrams Here
Enter a model number, part number, type of appliance, brand, or even a part description.
365-day return policy on all parts ordered through this site!