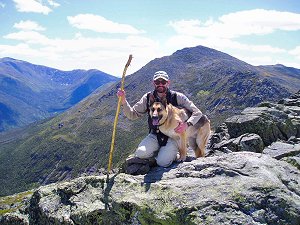 A serendipitous hike up Mts. Adams and Madison today. I caught the weather just right and the mountain gods did grin down upon me, granting me expansive views and temperate hang-time at the summits–every peak bagger's fervent hope and prayer. Being a beautiful Saturday with ideal hiking conditions, the trail head was jammed with cars from all around New England. I was a little concerned about the trails being choked with people. And while it's true there were lots of people out, they were spread thin and none of them were dilettantes. Every single person or group I had the pleasure to meet were all hard-core White Mountain hikers, which you'd expect on the most rugged trails in the White Mountains.
The stark mountainous landscape of this hike coupled with the uncommonly placid weather yielded some of the most stunning mountain pictures I've ever taken. Take a moment from your appliance repair trivial pursuit and check out all the photos from this majestic hike. You'll be glad you did.
Find Appliance Parts & Diagrams Here
Enter a model number, part number, type of appliance, brand, or even a part description.
365-day return policy on all parts ordered through this site!