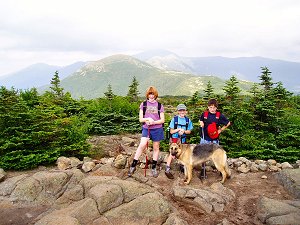 A triple-crown hike with the Samurai reproductive units and his semper fi canine hiking unit today. We hiked up the Webster Cliff Trail to the summit of Mt. Webster, a near-4,000-footer (elev. 3,910 ft.). After sucking up the majestic views of Crawford Notch from Mt. Webster, we continued our trek to Mt. Jackson (4,054 ft.) and then to the AMC Mizpah Hut. The hut was jammed with people and had a really bad sewage funk–not a place to linger! We refilled water and then headed up Mt. Pierce (4,310 ft.). From there we headed down the mountain on Crawford Path back into Crawford Notch. Along the way, we stopped at Gibbs Falls to chill out in an icy, pure mountain stream. So, the Samurai reproductive units bagged two more 4,000-footers: that makes seven for Stephen and Sam, three for Ivey.
Take a moment from your frustrating appliance repair quest to check out all the pictures from this hike and remind yourself what life's really all about
Find Appliance Parts & Diagrams Here
Enter a model number, part number, type of appliance, brand, or even a part description.
365-day return policy on all parts ordered through this site!