Most folks think of appliance repair as just another one of the technical trades, like a plumber or electrician. And, it's true, there are those who practice appliance repair as merely a trade. But did you know that appliance repair is actually an ancient martial art, older than Kung Fu, Karate Do, and Tae Kwon Do all put together? Yes, my leetle Grasshoppers, I shi'ite you not. The ancient martial art of appliance repair is called Fixite Do (pronounced "fixi-tay do"). According to archeological records, Fixite Do originated in Lower Slabovia sometime during the Fermentecean era, which began right after the Jurassic era. You may be interested to know that Samurai Appliance Repair Man is a fully trained and certifiable master in the ancient appliance repair martial art of Fixite Do. The picture below is an actual live shot of the Samurai applying his art (click the picture for a larger view):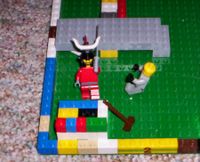 The Samurai Demonstrates Fixite Do
Find Appliance Parts & Diagrams Here
Enter a model number, part number, type of appliance, brand, or even a part description.
365-day return policy on all parts ordered through this site!