My family came up from Georgia for a visit and to have my sister's two sons Baptized at our parish.
I took my brother on a classic hike up the Franconia Ridge in the White Mountains. Being an absolutely beautiful Saturday, lots of other folks had the same idea so the trails were crowded; I was reminded why I set a rule to never hike in the White Mountains on weekends.
We went up the Falling Waters Trail, across the Franconia Ridge to Mt. Lafayette and then down the Old Bridal Path. Bro held his own the entire hike– you'd never guess he was a flatlander. He even knew how to do a summit pose like a true hillstomper, check it out: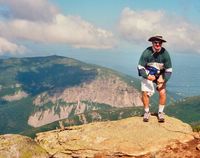 Bro of Samurai strikes a summit pose on Mt. Lincoln with Cannon Mountain in the background. (click for larger view)
Find Appliance Parts & Diagrams Here
Enter a model number, part number, type of appliance, brand, or even a part description.
365-day return policy on all parts ordered through this site!