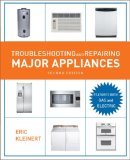 This is the latest edition (2007) of this very useful primer on appliance repair, Troubleshooting and Repairing Major Appliances. I own a copy of the first edition, which came out in 1995 and it occupies prime real estate on my bookshelf among my more valuable appliance repair references. This latest edition has added coverage of gas appliances and offers a complete guide to the latest tools, techniques, and parts for troubleshooting and repairing any appliance; 10 entirely new chapters and new illustrations throughout!
Packed with over 200 illustrations, the book includes step-by-step procedures for testing and replacing parts; instructions for reading wiring diagrams; charts with troubleshooting solutions; advice on using tools and test meters; safety techniques and more.
If you have any aspirations of fixing your own or someone else's appliances, you need this book. Buy it today— I did. 8)
Find Appliance Parts & Diagrams Here
Enter a model number, part number, type of appliance, brand, or even a part description.
365-day return policy on all parts ordered through this site!