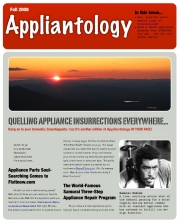 Konnichiwa, My Friends!
Just in time for Halloween, an all-new edition of our award-winning newsletter, Appliantology, is out terrorizing the neighborhoods! Download it here. (about 250 kb, PDF file)
This issue features cool new stuff added to Fixitnow.com and lots of appliance tips so hurry and download it today before it gets all used up!
Kanpai!


Subscribe to Appliantology:
(opt-out anytime, no-spam guarantee)
Find Appliance Parts & Diagrams Here
Enter a model number, part number, type of appliance, brand, or even a part description.
365-day return policy on all parts ordered through this site!