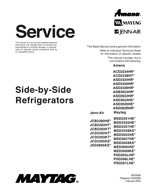 When you join the repair forum and make your love-offering to become an Apprentice Appliantologist, you can get expert help from Master Appliantolgists in fixing your appliances. But we've amped the forum up to 11– now it's one bettah! Daf right, homey– now you can also tap into the vast reservoir of appliantological scriptures available to you in the Samurai School of Appliantology.
We have service manuals for most appliance brands and models. To avail yourself of this gracious and unique offer, simply post your request in the eponymous Appliance Service Manual Request Forum. If the manual is available (and most of the time it is), we'll give it to you as a free gift! It's our way of saying "Domo, Dude!" for supporting our mission of evangelizing the world with Total Appliance Enlightenment®.
Find Appliance Parts & Diagrams Here
Enter a model number, part number, type of appliance, brand, or even a part description.
365-day return policy on all parts ordered through this site!