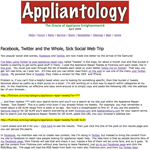 Just when it looked like my rehab was going so well, I had a relapse and produced the most important newsletter in history! Thank you for not asking which history this newsletter is important to but, if you must know, it's the history of Applianchia, a remote, mountainous region in Lower Slabovia famous for producing the appliance repair nephilim of yore. Those nephilim can be greedy, too, so hurry and get your FREE copy of the latest newsletter before they snarf it all up!
And if, in the future, you'd like your very own personal copy of Appliantology sent to your email in a discreet brown wrapper so the appliance nephilim don't git it first, kommen zie hither, bitte.
Find Appliance Parts & Diagrams Here
Enter a model number, part number, type of appliance, brand, or even a part description.
365-day return policy on all parts ordered through this site!