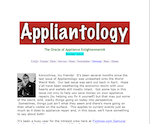 We are issuing this urgent warning to the general public: the latest issue of our newsletter, Appliantology: The Oracle of Appliance Enlightenment, has somehow escaped the plantation. It was last seen running naked and screaming incoherently across the Web. If you happen to come across it, please DO NOT approach it; keep your distance as it may be armed with lethal ideas which could endanger the health and well-being of the statist control grid. Please contact the Internet Newsletter Authority (INA) immediately.
Domo!
The Concerned Crew at Fixitnow.com Samurai Appliance Repair Man
Safely Subscribe to Appliantology
Find Appliance Parts & Diagrams Here
Enter a model number, part number, type of appliance, brand, or even a part description.
365-day return policy on all parts ordered through this site!