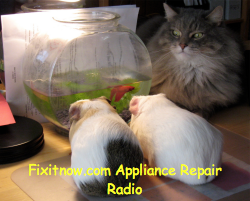 Many of you have emailed the Samurai axing, "Samurai, O Samurai, when will you and Mrs. Samurai make another edition of your award-winning podcast?" You chirped and we listened. After an extended hiatus, we're baaack!
Some of the topics covered in this issue:
Appliance brands: how to choose 'em?
New, extended version of the much-loved Home Wiring DVD.
DIY Appliance repair resources at Fixitnow.com.
Appliance Service Training Institute conference coming up next week.

Find Appliance Parts & Diagrams Here
Enter a model number, part number, type of appliance, brand, or even a part description.
365-day return policy on all parts ordered through this site!