Appliantology®
The Oracle of Appliance Enlightenment
---
| | | |
| --- | --- | --- |
| Search the vast repository of wisdom at Fixitnow.com: | | |
The Last Word on Dryer Venting
I reckon dryers are trickier than I thought for most folks. Despite several previous Zaplets on dryer venting problems, people still have a hard time understanding that the dryer vent is absotootly, posilootly critical to the safe and efficient operation of your dryer! Period. Folks, if your dryer vent sux, then your dryer's performance and safety will suck, too. It's just that simple. The idea with a dryer vent is to have as little back pressure as possible. Back pressure retards the flow of moist air outta the dryer and also collects lint in the dryer and vent system creating a fire hazard. And, hear this, poor venting will cause dryers to overheat, too! Another great cause of dryer fires.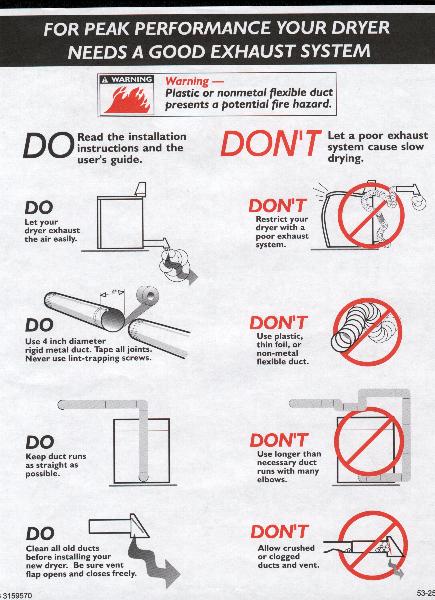 The number one thing you should do to make your dryer safer to operate and dry clothes more efficiently is to follow the do's and don'ts in the chart above. Look at this figure carefully. I didn't put it there just to look pretty. Examine it, study it, memorize it, print it out and sleep with it under your pillow...well, maybe not. But you get the idea.
In addition to the basics shown above, you shall obey the length criteria shown below.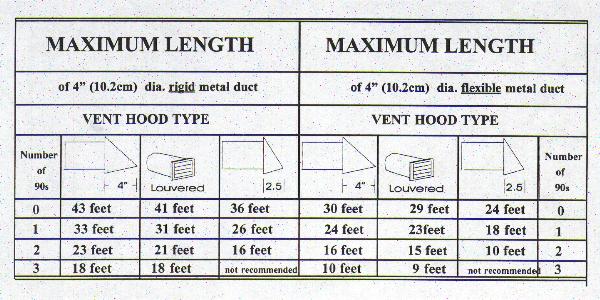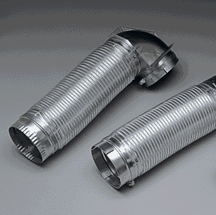 The picture to the right shows a closeup of UL-approved venting material. Note that white vinyl vent hoses are not UL-Approved and are a great way to start fires in your house. The American Household Appliance Manufacturers Association (AHAM)recommends the use of either rigid aluminum or steel duct or spiral-wound aluminum flex hose--NOT the white vinyl hose. For any dryer, but especially gas dryers, white vinyl vent hose should never be used and if yours has this installed on it, replace it ASAP with UL-approved materials.
Another reason for using rigid, smooth-walled aluminum ducting for your dryer vent is that you can easily clean it out using a vent brush. You need to do this annually to keep your dryer running at optimum efficiency and to ensure that you won't get any lint fires started inside the dryer vent. Oh yeah, it can still happen even with aluminum duct but the results will be far less catastrophic than a white vinyl vent fire.
Folks, I don't make this stuff up. I couldn't make this stuff up even if I wanted to. If you're having dryer problems like long dry times and overheating, you need to check out your venting in accordance with Figures 1 and 2 before you do anything else.
I can't even tell you how many time I hear Grasshoppers in the Q&A Forum tell me, "My dryer is (circle one) [overheating, runs too long, fires the heaters only briefly, smells hot, blah blah blah] and I checked the vent and it's OK." Checked the vent and it's OK? Checked the vent and it's OK? Well, just what in the hell does "OK" mean? What criteria are you using to check the vent? Do you even know what to look for? (Hint: the answer to all the above is "I didn't know but now I do after reading your inspiring and illuminating Appliantology article on the subject, oh wise Samurai.")
Ok then.
If you need to upgrade your vent using UL-Approved materials, some recommended items are listed below. Hint: these are links, you can click 'em to see pictures of 'em.
Still confused? To learn more about your dryer or to order parts, click here.
Podcast | Live Help | Buy Parts | Repair Forum | Beer Fund | Cool Stuff | Home
---

Your Appliance Guru:
Samurai Appliance Repair Man

URL: http://www.fixitnow.com
© copyright 1997-2004 Live It Up LLC
No part of this website may be reproduced or copied without the prior written permission of Live It Up LLC.