Appliantology®
The Oracle of Appliance Enlightenment
---
| | | |
| --- | --- | --- |
| Search the vast repository of wisdom at Fixitnow.com: | | |
A Gas Oven That's Not Firing Up
If you've had a gas range for any length of time, you either already have or will one day have a problem with the gas range not firing up. You may even see the orange "glow plug" (called a hot surface ignitor) glowing orange and so assume that it's OK. Not necessarily, Bubba.
You gotsta measure the current drawn by the ignitor before you can say it's OK or not. The gas valve has a bi-metal that snaps open when a certain amount of current flows through it to heat it up. The ignitor is wired in series with the gas valve. As the ignitor ages, it's resistance increases to the point where not enough current is flowing to the gas valve bimetal to open it up. Consequently, the gas valve never opens up. BTW, a common symptom of the early stages of this problem is erratic temperature control in the oven due to delayed firing of the bake burner while cooking. The service sheet below shows a picture of the different players.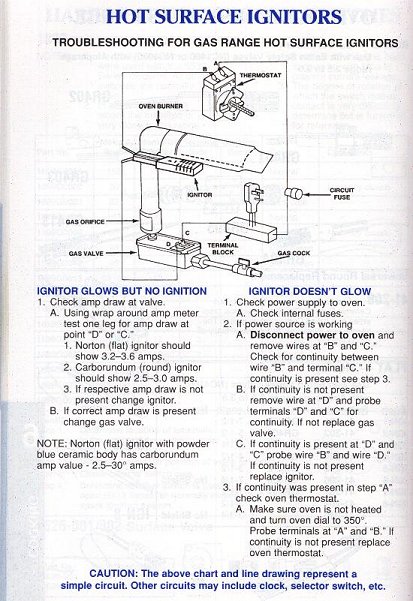 And here's a wiring diagram of what's going on: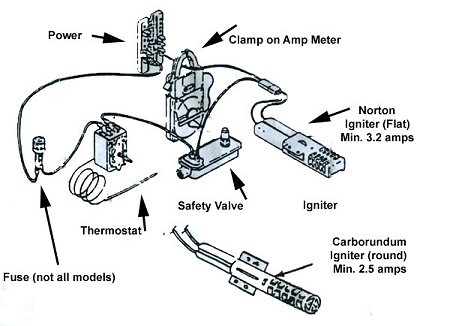 If you need help making basic electrical measurements, check out the Appliantology article on making basic electrical measurements.
I've talked to lots of shotgun parts-changers about this problem. These are guys who can't be bothered with the theory of operation, they know everything anyway, so they just shoot from the hip and end up replacing a bunch of parts that were still good. They replaced the valve and just can't understand why the oven still won't fire up. But now, you know why.
To learn more about your range/stove/oven, or to order parts, click here.
---
Podcast | Live Help | Buy Parts | Repair Forum | Beer Fund | Cool Stuff | Home
---

Your Appliance Guru:
Samurai Appliance Repair Man

URL: http://www.fixitnow.com
© copyright 1997-2004 Live It Up LLC
No part of this website may be reproduced or copied without the prior written permission of Live It Up LLC.