"Who are you and what's your problem, dude?"
Appliance Parts

850,000 Parts (Including Sears-Kenmore)- 70,000 Photos! Return any part for any reason. Appliance repair parts and accessories shipped overnight.

Appliance Breakdown Diagrams

Cool, interactive diagrams that show you how your appliances are put together. A great troubleshooting aid!

Appliance Accessories

Specialty tools for appliance repair, service manuals, water filters, cleaners, and tons of other accessories for all your appliances.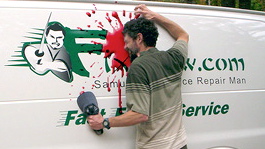 As a little boy, Samurai Appliance Repair Man showed a strong talent for hardly anything. Even in school, he was at the top of his class in mediocrity. Later, when he was kidnapped by a marauding band of sheep, he developed other important life skills, especially making animal noises and licking himself. Those skills would serve him well after he returned to civilization in his career as a volunteer in government-sponsored mind control experiments. Unfortunately, both he and his government programmers would later suffer nervous breakdowns and become institutionalized.
After being released from the New Hampshire Institute for the Hopelessly Insane, Samurai Appliance Repair Man set out to build a self-help appliance repair website, suffering from delusions that broken appliances mock and dishonor him. Although still a very sick man, the Samurai does offer live, real-time repair help at his website and runs the world famous Samurai School of Appliantology. If you live in or near New London, New Hampshire, he also does real-life service calls!
Help the Samurai get well. Give to the United Samurai Beer Fund¨--"Because a mind is a terrible thing to not be wasted." For the latest update on how the Samurai's mental therapy is going, drop by the Scuttlebutt Cafe. You can also check out the Samurai's photo galleries.
If you clicked into this page hoping to contact me, well, here ya go.
Ok, talk to you later, have a nice life.
---
Samurai Appliance Repair Man
Education
Basic Electricity and Electronics School, U.S. Navy, 1977
Aviation Electronics Technician School, U.S. Navy, 1978
Bachelor of Science, Agricultural Engineering, University of Georgia, Athens, GA, 1984
Master of Science, Environmental Systems Engineering, Clemson University, Clemson, SC, 1988
Licenses and Certifications
Awards
Military Service
U.S. Navy, Active Duty 1977-1980, Active Reserves 1980-1982. Honorable Discharge.
Personal
When I'm not fixing things or screwing around with this website (which has been too damn much lately), I like to antagonize my kids or bother my wife. They're usually thankful when I take off for a few days backpacking and they act appropriately happy to see me when I return. And when they get sick of me, they kick me out to go hiking in the White Mountains with my German Shepherd hiking partner, Bubba. But sometimes, I'll drag my kids along, too! During the winter, I give my family a break by strapping on the snowshoes and trudging out into the tundra, mile after mile, in search of yellow snow.
If you are morbidly curious, you can check out all my hiking and appliance repair photo galleries.
I married my graduate school sweetheart, Susan, on May 13, 1989, in the sprawling metropolis of Conyers, GA, and since then we've lived in Chicago, Minneapolis, and our present home since 1994 in New London, NH. Using ancient recombinant DNA in-utero fertilization techniques, together we have spawned three reproductive units with the designated nomenclatures of "Ivey," "Stephen," and "Sam."
"But wait! What's with the Samurai schtick?"
Ok, I'll tell you. It's my own strange brew of John Belushi's Samurai skits and Toshiro Mifune's chracters in the Akira Kurosawa films, Yojimbo and Sanjuro.
Podcast | Live Help | Buy Parts | Repair Forum | Beer Fund | Cool Stuff | Home
---

Your Appliance Guru:
Samurai Appliance Repair Man

URL: http://www.fixitnow.com
© copyright 1997-2004 Live It Up LLC
No part of this website may be reproduced or copied without the prior written permission of Live It Up LLC.