Repairware: Cool Tools for Fixit Fools!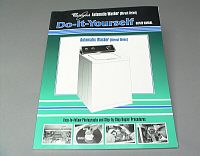 Information is your most valuable asset when trying to repair your appliances. Get it straight from the source: genuine manufacturer's repair manual. Now, this ain't no cheap imitation like you'll find in the seedy underbelly of the Web. Nawsir, these here are guaran-damn-teed to be the real McCoy. Come git you some!
---

Essential repair book: Troubleshooting and Repairing Major Appliances. If you need to learn the fundamentals, like how to make basic electrical tests, testing a refrigerator defrost timer, how to read a washer timing chart, and lots and lots of other cool fundamental stuff then buy this book. Don't tell anyone, but I still look stuff up in this book when I need to freshen up on the fundamentals. And it's a must-have book if you're just getting started in professional appliance repair.
---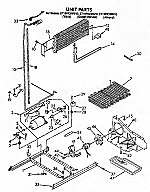 I'll tell you something else, Hoss: another thang you're gonna be sorely wantin' when you start tearin' that sucker apart is genuine parts breakdown diagrams.
I can't tell you the number of times I tore something apart only to realize, to my horror, that I didn't remember how the damn thang went back together. Or, how 'bout this: ever put something back together only to realize that you got a few extra nuts and bolts left over? Yeah, and for the next few weeks you got this nagging tug at your gut as you wonder where them thangs went and whether or not it matters. Well, no need to guess if you got you a parts breakdown diagram!
Ok then, come git you some.
---
If you're gonna be doing any kind of serious washer repair, you better git you one o'these spanner wrenches 'cause you ain't removing the inner tub without it. Fits Whirlpool/Kenmore, GE, and Maytag washers. Like I'm tellink you, dawlink, it's sucha bahgain!
---
Another thing you'll hear me talking about in the do-it-yourself forums or in the on-line repair manuals is making some kind of electrical measurement, whether it's measuring continuity or checking for voltage. You'll need a good multi-meter to do this. This meter is inexpensive, yet professional quality for all of your needs. Heck, it's just like the one the Samurai uses on service calls--say no more!
---
This is a handy and inexpensive little outlet checker that let's you quickly and easily check for voltage at a standard 120v outlet as well as check the polarity of the outlet (sometimes, outlets are wired where the hot wire is tied into the neutral slot and vice versa--this can affect some appliances like gas range spark modules, for example). Also handy for checking GFCI outlets--I've seen several instances where someone thought it was the appliances' fault that a circuit breaker kept tripping but one quick check with this dude showed that it was the outlet itself that was bad!
---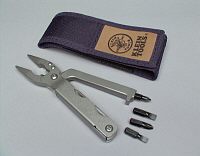 This handy multi-tool stays on my belt when I'm doing service calls. He ends up pinch hitting for all kinds of stuff: quick pair of needle nose pliers, wire cutter, extra screw driver (straight-slot and Phillips), and, of course, a knife. And after the job is done, there's a bottle opener for your favorite adult beverage. *POP* *glug-glug-glug* AHHHH!
---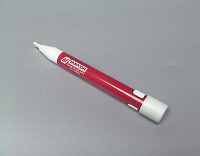 Now this is just too handy for words. Sometimes, you don't need to mess with a meter and test leads just to see whether or not voltage is present at a part of the circuit you're troubleshooting. You just need to know if there's voltage there or not. This non-contact voltage light stick gives a quick way of telling that. All's you do is touch it to the outside of the wire. If there's voltage there, it lights up! Quick, easy, and safe. You still need your meter, too, this can just make it real fast and easy to trace out circuits.
---
If you're working on the Maytag or Magic Chef dryer for a rumbling noise on startup or stopping, you'll need these snap ring pliers 'cause you're going to have to change the blower wheel. This is a good quality, versatile pair that'll serve you well for years.
---
Sooner or later, you're going to run into those star-looking screws called "torx." You'll see them especially on GE/Hotpoint washers and dryers, and Whirlpool dishwasher doors. You'll need a set of torx drivers to remove the fasteners and take the appliance apart. This is an inexpensive but good quality set from Stanley.
---
Here's a nifty little dual-purpose toolbox to keep all your cool tools in. Doubles as a sturdy step ladder. I got one for my wife, she loves it! She even made me label it ,"Momma's Toolbox" No kidding! She uses it all the time for getting to stuff above the fridge and for keeping her formidable and growing tool collection in.

---

And they's a whole buncha other cool tools for fix-it fools right here!
---
If you like this website or if it helped you fix your stuff, then how 'bout helping us out by linking to us? Sure, here's a cool Fixitnow.com button. Go ahead, steal it! And, take a few of our bidness cards and pass 'em around. Domo!

Thanks for your visit!
APPLIANCE PARTS SHOP
---
Weird Forum Posts
What am I, flypaper for freaks?
---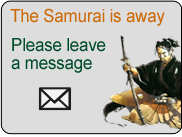 ---
Keep the buzz alive!



The United Samurai Beer Fund®
---
Mrs. Samurai's Store
"Keeping the Samurai's clock wound for over 15 years!"
---
Look for more appliance repairware at Amazon: