It was such a pretty Autumn day up here in New Hampster that I just had to take m'boyz on an easy hike up Mt. Osceola. It's one of the NH 48-4,000 footers and we had planned on hiking it earlier this summer but the trailhead was infested with people. This is one of those rare hikes in the White Mountains where you're rewarded with magnificent views for very little effort. From the trailhead to the summit is just over three easy miles and the views, well, words only cheapen it. You can get a glimpse of what it was like from these two pictures below.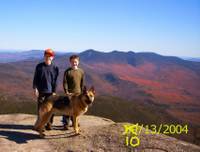 The Boyz on Mt. Osceola. That's the Tripyramid mountains in the background. (I had the date set wrong on my camera–pardon the crayon correction.)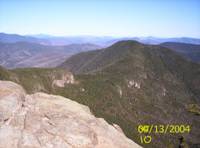 Looking at East Osceola and beyond from the expansive summit of Mt. Osceola.
This was the 15th-4,000-footer for my little Samurai guys. I've already hiked all 48 including many during winter and several of my favorite peaks multiple times. I'm hoping to complete the 48 again with my little Samurai guys before my back gives out completely.
I was recently diagnosed with lumbar spinal stenosis, which is essentially advanced arthritis in the vertabrae. No doubt this was a result of the ruptured disc I had four years ago. The sciatic pain in my right buttcheek and foot has been ratcheting up lately so I finally had an MRI and just got the results. The good news is that this is usually treatable without surgery but, if surgery is required, it is very effective at clearing it up. The bad news is that, until I get it under control or have surgery, it hurts like hell to hike these mountains. So I gobble Vitamin I (ibuprofen) and just suck it up. Then, when I get back home, quaffing a few brewskis helps blur the pain.