I made my bi-annual pilgrimage to the Bonds last week. The Bonds are three mountains, Bond Cliff, Mt. Bond, and West Bond, smack in the middle of the Pemigewasset Wilderness Area; the jewels of the Pemi. All three are on the NH 4,000 footer list so you always see peak baggers making the trek to tick 'em off the list.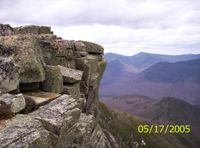 Bond Cliff El Classico… just like in the brochures!
It's a long day hike, about 22 miles, no matter which direction you approach it. And the Bonds are a spectacular backpacking destination.
For this trip, my semper-fi hiking partner, Bubba, and I started from the Lincoln Woods trailhead and slogged north for eleven miles to Bond Cliff and then Mt. Bond.
Weather was mostly cloudy but no rain. Significant snow and ice pack left on the trail above 3,000 feet but post-holing wasn't a problem and I bare-booted it the entire way.
Passed a group of about half a dozen young dudes, all in their 20's, heading up to Guyot Campsite on the other side of Mt. Bond. Lucky bastards! Bubba and I have spent many a very pleasant night up there at the Guyot shelter so we were a little envious.
Check out all the pics from this hike.