United Samurai Beer Fund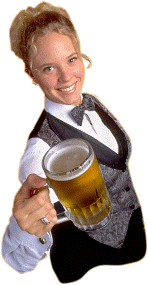 Beer. It's the very lifeblood of this website. Without it, this would be just another well-designed and highly useful website. But instead, with a steady and ample supply of fresh, cold beer, you get Samurai Appliance Repair Man and Fixitnow.com, the website equivalent of a frog in a blender. You know, lately I've been flooded by so few requests from people not asking me, "Beloved Samurai, how may I donate to your seemingly endless consumption of beer as evidenced by this freak-show you call a website?"
That's an excellent question, thank you for not asking. Dear friends, it takes real beer, and lots of it, to run a website this messed up. You try putting this crap together while sober! Recently, the Samurai has had to dip into his personal beer money to pay the increased costs to run this website and the award-winning repair forum, The Appliantology Academy. And now he's running out of money. So, with sobriety rearing its ugly head, the Samurai turns to you, his loyal Grasshoppers, to help keep the buzz alive.
Don't let this do-it-yourself appliance repair resource become another internet casualty. If this website or repair forum helped you fix your broken appliance, or even if it didn't but yo momma drank way too much Old Milwaukee while you were in the oven, then please give to the United Samurai Beer Fund. Just use the payment service of your choice below to make your love-offering:
| | |
| --- | --- |
| Paypal | Or donate using Venmo the simple, fun, and free service friends can use to buy each other a beer: |
If you prefer, you can mail your check, cash, money order, or winning lottery ticket to the snail address below:
United Samurai Beer Fund
PO Box 809, New London, NH 03257
Thanks for your support!
The United Samurai Beer Fund®:
"Because a mind is a terrible thing to not be wasted."
Domo,
Samurai Appliance Repair Man
United Samurai Beer Fund® is a charitable organization that meets the requirements of section 501(b)3 of the Eternal Revenue Disservice code. All contributions are tax corruptible.
Find Appliance Parts & Diagrams Here
Enter a model number, part number, type of appliance, brand, or even a part description.
365-day return policy on all parts ordered through this site!