Hillstomping Update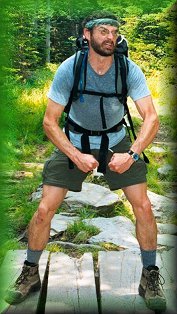 Like Moses from Mt. Sinai, I'm back from our three-day hajj to the mountains — refreshed, renewed, reinvigorated… and with just the right touch of diarrhea. Yea verily, I am born again from the womb of The Mountain, the slightly-bruised fruit of the North Wood's loins. I have seen the Promised Land; someone stole the milk n' honey and left piles of schist everywhere. More visual documentation is here.
The highlight of the trip was bagging Mt. Washington, the highest peak in New England, with my camping bud, Dave Yale, and my semper fi canine hiking bud, Ouzo. We summitted via the Tuckerman Ravine Trail and returned via the Nelson Crag and Old Jackson Road Trails for a total mileage of about 12.9823475987 ± 0.987459. Note: the significant digits in the measurement and error terms are not compatible so please consult a pair of calibrated eyeballs before attempting this route yourself. Have a nice day.
Find Appliance Parts & Diagrams Here
Enter a model number, part number, type of appliance, brand, or even a part description.
365-day return policy on all parts ordered through this site!