Tim finally posted his cool pics from our latest peak-bagging exploits. Check 'em out!
But the Samurai wants you to know that even though he spends as much time in the White Mountains as Mrs. Samurai will permit, he's always thinking of his loyal grasshoppers. Why, here he is at the peak of Mt. Tom on his cell phone, counselling a grasshopper on the fine art of repairing a Scrotum Scrubber 2000: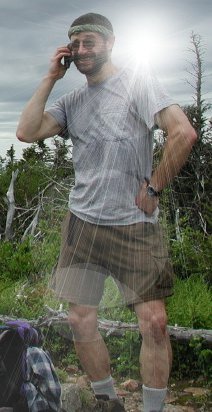 Samurai Appliance Repair Man:
A beacon of hope in your time of appliance despair.


Anyway, I'm back, I'm black, and I'm madder than hell! Ok, I'm not really black. And I'm not particularly mad, either. But I really am back and I'll available for live help, hangin' out at Hodji's Scuttlebutt Café, or spreading hate and disinformation in the Samurai School of Appliantology. Or, you can call me on my cell phone, the number is… oh, DAMN, I just remembered I gotta go pull hair outta the drain, or something. Later.