The Guru's Lair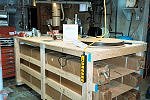 Since announcing the grand opening of my new service offering fine, custom-made gaskets for the discriminating commercial kitchen, I've been deluged by email from devoted grasshoppers asking to see pictures of my new award-winning gasket manufacturing operation. Well, there ya go, budrow. Click the thumbnail for a bigger view.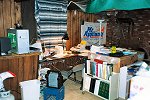 And in case you're interested, here's a shot of my office, where all the webmagic happens.
Ok, peep show's over. Go back to what you were doing.