Everyone knows what thermostats do: turn something on and off based on temperature. If your range has an electronic range control (ERC) board with the digital LED display, it doesn't have a thermostat. You know what I'm talking about, most ERCs look something like this.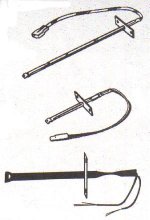 Ranges with ERCs use a sensor to "feel" the temperature in the oven cavity and sends that information to the ERC. The ERC then makes decisions about about heating the oven and controls the burner (in gas ovens) or heating elements (in electric ovens). Typical styles of range temperature sensors are shown here.
Inevitably, your range will one day start acting goofy and you'll need to check the oven sensor to see if it's causing a problem. On most ranges, a big clue that the sensor is the problem is if you're getting an F1 error code in your ERC display. So how do you check the sensor? Keep reading.
Oven sensors sense the temperature is the oven cavity by increasing their internal resistance, measured in ohms, as the oven's temperature increases. This change in ohm resistance tells the ERC the oven cavity temperature and it turns the heating elements or burner on and off, as needed. Now, hang with me, grasshopper, 'cuz we're getting to the good part.
At room temperature, 70°F, the resistance of the most common sensors used today is 1000-1100 ohms. What this means is that if you pull those sensor wires to measure the sensor's resistance and it reads slap-a$$ open, why, it don't take a rocket scientist like myself to figger out that you got yourself a bad sensor! Wasn't that easy?
Just for grins, I've included the table below to show you the sensor resistance reading at various temperatures. Viva la resistance!
Oven Sensor Resistances
Temperature (°F)
Resistance (ohms)
100
1143
200
1350
300
1553
350
1654
400
1753
500
1949

To learn more about your range/stove/oven, or to order parts, click here.