You put a load of dirty clothes in your washer, start it up and walk away to watch Jerry Springer just like you have a thousand times before. Only this time, something goes wrong…very wrong!
After the booing and cheering on the Jerry Springer show stops, you hear an unfamiliar sound of running water coming from the laundry cubby just down the hall in your trailer. You set the bag of Doritos aside, grab your can of Old Milwaukee and grunt your way out of your Lazy Boy as you exhale the last drag of your Marlboro and shuffle down the hall to investigate. You don't get 10 steps before your pink bunny slippers are sloshing through a huge pool of water. Now the bile starts burning the back of your throat and you feel your sphincter dilate as you prepare to do battle with the single greatest horror of your lifetime: a washer flood out.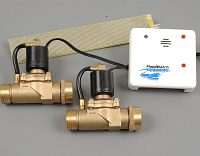 Yes, it finally happened: your washer dutifully filled with water and then…it just kept right on filling, and filling, and filling… Turns out that the water level control switch in your washer decided to take a permanent vacation and so never told your washer to stop filling with water. Hi. Welcome to my world. Oh! But if only you'd listened to that nice appliance repair guy not long ago who told you that you really, really needed to have a Floodcontrol on your washer and that it was cheap insurance against a devastating washer overfill. But that money was earmarked for that Dish TV you've been lusting after for so long and, besides, you're not sure you trust people who can throw around fancy words like "devastating." Damn straight! Well, Bubba, now you've got one helluva mess to clean up in your trailer, ain't ya? Hey, newsflash: do yourself a favor and come git you some o' dis.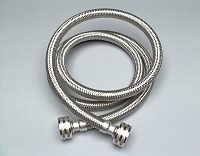 And while you're at it, go ahead and upgrade those cheesy 12-year old rubber fill hoses on your washer to the steel braided hoses. What, you're gonna wait for those to burst and find water spraying out from behind your washer like a firehose on that '71 Cutlass you got parked out front? Haven't we learned our lesson by now? How long? How long? I say, how long must this bullshit go on? How 'bout when we do a job, we go ahead and do it right? Ok then, come git you some steel braided hoses, too.