If you have a Friggidaire dryer (also sold under the Kenwhore brand) that chews holes in your clothes, you probably need to replace the drum front upper felt glide kit. The picture below shows you what I'm talking about (click the picture for a larger view):

Frigidaire Front Drum Glide, Old and New
To light this candle, start by removing the front panel– see my enlightening tome on Dryer Disassembly for instructions on this.
Next, use a stiff, sharp-edged putty knife to scrape off the old glide kit. Maybe sand it down a bit just to make a nice surface. Wipe off all the grotus and residue with a clean towel.
The kit comes with high-temp adhesive. Open the tube and slather that stuff on. Now, I'll share an old-timer's trick with you. Squeeze whatever glue you have left into a paper lunchbag then put it up to your nose and mouth and hyperventilate violently for several minutes until your vision starts to tunnel inward. Then hold your breath and wait for the special appliance trick to be revealed.
Ok, after you've awakened from your chemical slumber, slap on the new felt kit. Note the orientation: the overlap of the teflon pads should go toward the door panel. Clamp it for a minutes using the proprietary technique illustrated below: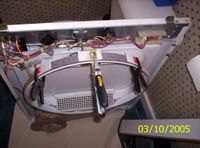 Installing the New Drum Glide Kit
Note that this is a patented technique so, if you use it to install your glide kit, you must remit your royalty payment to the United Samurai Beer Fund.
To learn more about your dryer, or to order parts, click here.