Well, well, well…
I got me an old washer
It's makin' me blue
It spits up out the drain pipe
I don't know what to do.
Can someone help me,
with my scummy water blues?
I got water in my basement,
Oh, Samurai, tell me what to do!
I say I got me a washer…
Ok, that's enough of that. A little bit of the Blues goes a long way with me, bruthah.
This problem is common in older houses with jack-leg plumbing jobs; with drain pipes that are too small in diameter; or from drain pipes that have become constricted from years of built-up gookus and scum inside of them. Many times, the problem is exacerbated by using too much detergent in your laundry; recommended reading: Your Detergents Suck.
Someone posted this problem in the repair forum and another user posted the photograph below of his very clever solution: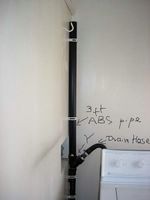 Vertical Surge Pipe Solution for Washing Machine Drain Pipes that Backup During Pumpout