So, you did your due diligence and eliminated all the usual suspects: water supply hose, drain pump boot, door seal boot, but you still get that pesky leak. What's a grasshopper to do?
Ahh, Grasshoppah, have you considered the tub gasket? Observe: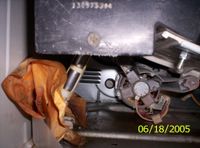 Note the wet-warped envelope that holds the tech sheet. This is a sure sign that the tub gasket is leaking in a Frigidaire-built front-loading washer (also sold under the Kenmore brand). Click the picture for larger view.
Loose tub bolts will make a leak. Ya sure, ya betcha. Yep, I fixed this one by reachin' waaaaay up in the tub and crankin' down on those tub bolts. Got half a dozen turns on three o'them bad boyz. Problem solved. We bad!
Now go git 'em!