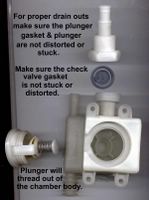 GE / Kenmore Dishwasher Check Valve Assembly; No-Drain or Poor Draining = Clean Out Check Valve and/or Replace Flapper Gasket (click to enlarge). Located at the very back in the middle – take off the cover.
Parts Link: Piston Assembly for Check Valve
To learn more about your dishwasher, or to order parts, click here.