One of the many common problems on the newer GE refrigerators is that the chilled water dispenser quits dispensing water, chilled or otherwise.
First, rule out that the water inlet valve Part Number: WR57X10032


(the one in the back of the refrigerator, behind the service panel) is the problem. The water inlet valve is located at the lower left in the rear, it has a blue side and a red side
Next, test the voltage to the blue side; should get 120 volts when water on door is activated. If you don't, then you have to troubleshoot that circuit to find out what happened to the voltage– that's a story or another post. The more interesting question, however, is, "What does it mean if you DO have 120vac at the blue valve coil?" Does it automatically mean that the valve is bad? Not necessarily, Grasshoppah.
What if the valve is opening as commanded but water is blocked from making it out of the dispenser? What could cause this? Well, one common problem with these newer GE fridges is that the water in the dispenser tube near the dispenser assembly freezes up. Yeah, turns out this is a common problem with these units. So common, in fact, that GE came out with a special Dispenser Heater Kit for this very problem Part Number: WR49X10173

And here's what it looks like installed: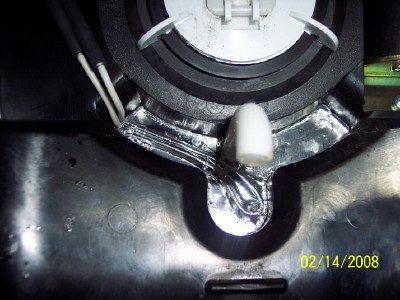 Photo courtesy of Sublime Master Hvacdrd.
You can buy the dispenser heater kit here.
To learn more about your refrigerator, or to order parts, click here.
.