Steve wrote:
Maytag Atlantis MAVT834AWW-

Fills with water, no agitation. Timer works, goes into spin and the water is pumped out.

Tried other wash settings still same thing. It is a 5 speed so tried all 5 speed settings. Same thing.

During the agitation cycle the motor is humming, if I help it to start it will run. After I help it, all is normal.

Motor hums with the belt off, but will start if I spin the pulley.

This model does not appear to have a start cap, prints say start cap only for export models. Not sure where it comes from so it could be export model but I have not found a cap yet. It runs when it comes to spin so the start windings are good, I think.

I am leaning towards replacing the motor but wanted an appliance tech to chime in here if I am missing something.

Thanks

Steve

Read more: Maytag Atlantis MAVT834AWW, no agitation – The Laundry Appliance Repair Forum – Do-It-Yourself Appliance Repair Help – ApplianceGuru.com: The Samurai Appliance Repair Forums http://applianceguru.com/forum2/26809.html#ixzz0wdJELaPS

Get appliance parts at http://parts.fixitnow.com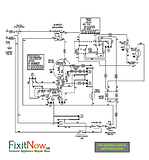 It may be a bad contacts in the Timer. The motor spins one direction for agitate and the other for spin; the motor Start Winding is energized for either direction. The Timer contacts 5 & 6 connect the Start Winding to the proper direction as shown in the schematic (click for larger view). In other words, if this motor starts in spin, it should work in wash.
Try it on another wash cycle.
A way to test this is by taking a two-conductor power cord and adding an extra conductor to each side of the cord so you have two neutrals and two hot conductors. Attach one side of the cord to terminals 1 & 4 and the other side of the cord to terminals 2 & 3. To check low speed agitation move the wire that is on terminal 3 to terminal 5.
To learn more about your washing machine, or to order parts,
click here
.