This can be a head scratcher because the heating element in a dryer should only come on when the drum is tumbling. There's still power to the display and you can run diagnostics but the motor won't turn on. In fact, this is one of those cases where simply running the diagnostics without any insight into how dryers work can only lead to more confusion.
For example, in a recent topic in the repair forum, running diagnostics gave the following results:
Diagnostic Mode: 3 errors Displayed
F28 – Moisture Sensor – performed test on Moisture sensor and got the all clear. Not an issue.

F30 – Air Flow – checked lint filter and vent hose. Lint filter filthy, wife obviously hadn't cleaned it in several cycles.

F31 – The mystery code. The tech papers do not list this code for this model. Only info available on F31 is for a Whirlpool Duet (L2 Line Voltage) and a post here on these forums (Bad thermal fuse)

Read more: Whirlpool Cabrio WED6400SW1 no tumble but has power – The Laundry Appliance Repair Forum – Do-It-Yourself Appliance Repair Help – ApplianceGuru.com: The Samurai Appliance Repair Forums http://applianceguru.com/forum2/27493.html#ixzz10BPfhKDe
What's a grasshoppah supposed to do with this? What's anyone supposed to do with this? This doesn't help narrow down the problem.
But what does help is keen insight into how dryers work. A big clue here is that the heat still comes on even when the drum isn't tumbling. This means the heating element is getting power through "illegal" means. In this case, a grounded heating element was letting the element get power when it wasn't supposed to. A grounded element just means that the element wire has broken and one end is contacting the element housing, like this: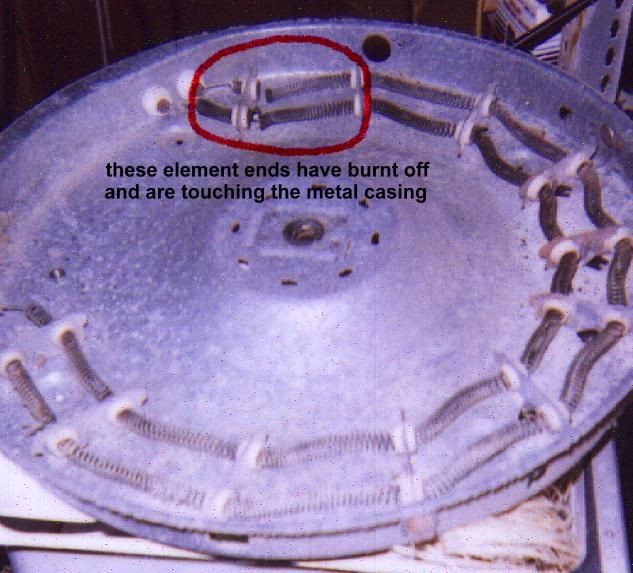 (photo courtesy of ApplianceAid.com)
The element shown above is not the same one that goes in this dryer, but they're all basically the same, just different shapes.
The fact that the motor isn't running but the control panel still gets power is a sure sign that the thermal fuse is open.
The fix is to replace both the thermal fuse and the heating element. Easy job. Here are the part links:
Thermal fuse:
http://www.repairclinic.com/SSPartDetail.aspx?s=t-WED6400SW1-%3d%3dc44i1455409&PartID=1455409
Heating element:
http://www.repairclinic.com/SSPartDetail.aspx?s=t-WED6400SW1-%3d%3dc42i1201501&PartID=1201501
To learn more about your dryer, or to order parts, click here.