Frigidaire used to make dryers for GE (example model number: WSM2700HBWWW) back when GE was too busy building shoddy Mark 1 nuclear power plants to build their own shoddy dryers; those came later… and they're pretty damn shoddy. The Frigidaire-built units were better, though not nearly as good as the Whirlpool units with the lint filter in the top panel.
Anyway, if your Frigidaire-built GE dryer– or if your Frigidaire-built Frigidaire dryer– is making a squealing noise in back, you probably need to replace the rear bearing kit.
Here's the link to the bearing kit which includes a how-to video: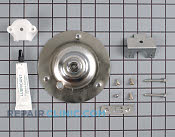 (click it to git it, Hoss)
To learn more about your dryer, or to order parts, click here.