First, open the door and turn the drum by hand to make sure it's not seized. If the drum won't turn or is very hard to turn, then you may have either bad drum rollers or something stuck in the blower.
Okay, so the drum movement seems normal. Now you need to see if you're getting voltage to the motor. Use the wiring diagram supplied with the dryer for the wires on which to check for voltage at the motor. Usually, it's the blue and white wires. If you need help figuring this out, come start a new topic in the Laundry forum and we'll get you going.
If you're getting 120vac to the motor, then the motor is bad. You'll need to replace it, click on the motor pic below to order; one year guarantee! Easy job– you can watch a how-to video on this page.
And you might as well do the maintenance kit while you're in there; includes the belt, idler, and drum rollers.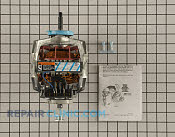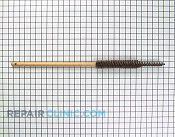 To learn more about your dryer, or to order parts, click here.