Your Name: bhoeff

Type of Appliance: Dryer

Brand: maytag

Model Number: pye2300ayw

Your Precious Words:
dryer runs but doesn't heat. replaced thermal limit, hi limit, ohmed element o.k., check voltage L1 & L2 o.k., checked voltage on most large wires on timer o.k. timer clicks smooth. What's next?
You've covered all the bases except one: the centrifugal switch in the dryer motor: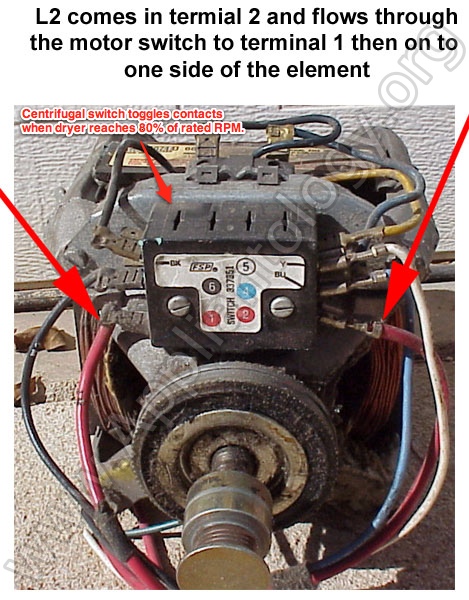 The example shown is for a Whirlpool dryer but all dryer motors operate similarly. Some centrifugal switches are separately replaceable (like this one); some are not.
For an electric dryer no-heat complaint where you've checked everything else as you have and still not getting heat, that only leaves a bad centrifugal switch in the dryer motor. On most models, including yours, that means a new motor because the centrifugal switch is not separately replaceable.
Here's the part link to your dryer motor with a 365-day return policy ==> http://www.repairclinic.com/PartDetail/Drive-Motor/W10410996/2024638?modelNumber=PYE2300AYW
You can find whatever appliance part you need through the parts search box at www.fixitnow.com. No harm in buying and trying with our 365-day, no-hassle return policy, even on electrical parts that were installed!
Subscribe to our FREE, award-winning newsletter, Appliantology: The Oracle of Appliance Enlightenment ==> http://newsletter.fixitnow.com and download your free report on appliance brand recommendations! Every issue is jam-packed with appliance repair tips and inside information direct from the Samurai's fingertips to your engorged and tingling eyeballs.
To learn more about your dryer, or to order parts, click here.