Your Name: paul

Type of Appliance: Refrigerator

Brand: maytag

Model Number: mfd2561heb

Your Precious Words:
freezer works, fridge temp. stuck at 68, think it's the high voltage board. Where is it and how do I change it?
Hi Paul,
This diagram shows you where the HV board is located: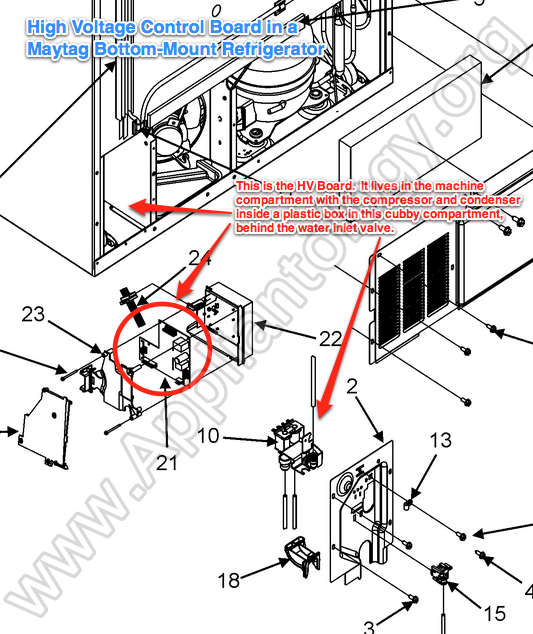 And you can buy the replacement board with a 365-day return policy here ==> http://www.repairclinic.com/PartDetail/Main-Control-Board/12782036SP/1515036
Having said all that to give a direct answer to your question, let me just add that, based on your problem description– cold freezer, warm fridge– I doubt very much that HV board is bad. If it were, you'd have a warm freezer, too, because the HV board powers the compressor which does all the cooling.
I think it's much more likely that you've had a defrost failure. Removing the back panel to inside the freezer to look at the evaporator coil frost pattern will tell the story. If it's choked in with frost like this one, you can be sure that's the problem:
You can find whatever appliance part you need through the parts search box at www.fixitnow.com. No harm in buying and trying with our 365-day, no-hassle return policy, even on electrical parts that were installed!
Subscribe to our FREE, award-winning newsletter, Appliantology: The Oracle of Appliance Enlightenment ==> http://newsletter.fixitnow.com and download your free report on appliance brand recommendations! Every issue is jam-packed with appliance repair tips and inside information direct from the Samurai's fingertips to your engorged and tingling eyeballs.
Samurai Appliance Repair Man