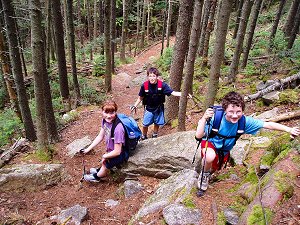 Took the Samurai reproductive units on a pre-Independence Day Hillstomp up Sandwich Dome today. Our plan was to hike up Mt. Osceola for its generous reward of expansive views for relatively little effort. However, being a glorious, sunny Saturday with perfect temperatures for hiking, that was everyone else's plan, too. When we got to the Osceola trailhead, cars were spilling out onto Tripoli Road, infested with out-of-state license plates: Connecticut, Massachusetts, and New York, being the three most pernicious. So we had a last minute change of plans and opted for the less celebrated but equally glorious Sandwich Dome. As a bonus, you can read my daughter's trip report.
Check out all the pictures from this hike.
Find Appliance Parts & Diagrams Here
Enter a model number, part number, type of appliance, brand, or even a part description.
365-day return policy on all parts ordered through this site!