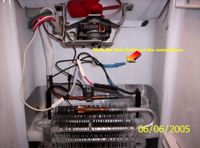 Splicing in a new defrost thermostat on a refrigerator evaporator coil. Note the heat shrink on the splice connection. This is to prevent moisture from migrating into the splice connection and rotting it out. An alternate technique would be to use a dab of silicone in the open end of the terminal crimp connector. Pigtail wire nuts are not a reliable splice connector in this environment, crimp connections only.
Find Appliance Parts & Diagrams Here
Enter a model number, part number, type of appliance, brand, or even a part description.
365-day return policy on all parts ordered through this site!