This was one of the most spectacular hikes so far this year, rivalled only by the Edmands Col hike a week ago. There is an Edmands on this hike, too: Edmands Path. Bubba and I hiked Edmands Path for three miles up to the ridge where we picked up Crawford Path. Mt Eisenhower was just to the south of us and Mt. Monroe, our objective, was two miles to the north.
This was also a charmed hike: the weather forecasts threatened afternoon thunnderstorms and, for once, they were correct. And although an ominously dark thunderhead did take firing position directly overhead on the hike back down Edmands Path, it didn't bust loose until the exact moment we reached the trail hog van and closed the door. I shi'ite you not!
The four pictures below are thumbnails– click 'em for a larger view. They were selected from the full set of photos of this hike, which you can see here.
Happy trails!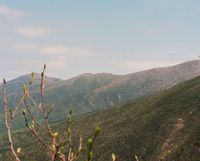 Heading up Edmands Path to the ridge. That's Mt. Monroe in the center. Mt. Washington is to the left, partially occluded by the spring buds.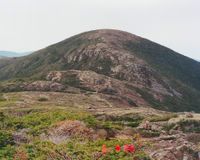 Looking back at Mt. Eisenhower. You can see Edmands Path cutting off to the right.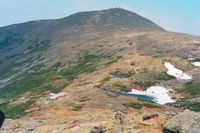 The view from Mt. Monroe. Mt. Washington looms before us. Glacial remnants on the right, the AMC Lakes of the Clouds hut on the left.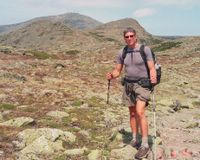 AT Thru-Hiker, Just Mark. He's from Arizona. Started the AT February 22 in Georgia. About a month left 'till Katahdin. Go, Just Mark!