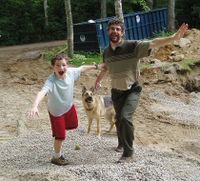 Fixit Hound looks on lovingly as Samurai Appliance Repair Man and his young apprentice prepare to launch into the sky and fly to yet another broken appliance in Gotham City (click for larger view).
Find Appliance Parts & Diagrams Here
Enter a model number, part number, type of appliance, brand, or even a part description.
365-day return policy on all parts ordered through this site!