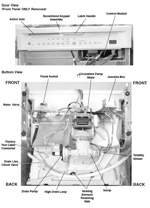 Click the pic for the larger version (opens in a new window). Save a copy for future reference.
To learn more about your dishwasher, or to order parts, click here.
Find Appliance Parts & Diagrams Here
Enter a model number, part number, type of appliance, brand, or even a part description.
365-day return policy on all parts ordered through this site!