Here it is Valentine's Day and you're in the doghouse because you forgot to get that significant someone that special gift that says, "Hey, I care. Now what's for dinner?" Many of you fixit dudes have emailed me with much weeping and gnashing of teeth about your dilemma, turning to the Samurai to offer the solution, as I have so many times before. Rest easy, my ruffled grasshoppers and unflutter your delicate wings flapping in the winds of anxiety: the Samurai has heard your plaintive cries and once again dashes in to preserve your domestic tranquility.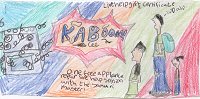 Now, almost in time for Valentine's Day, the Samurai and Fixitnow.com are proud to offer Live Help Gift Certificates. Give that special but almost-forgotten someone a truly special gift, even more precious than anything you could buy from the jewelry department at the Wal-Mart. Yes, you can give the gift of live appliance repair help with the Samurai. You can be heroes, just for one day. So get that stove or refrigerator or any other major appliance repaired right now with real-time, online help from the Samurai. Buy a Live Appliance Repair Help gift certificate now. Still only $25 and good for live help on any major appliance problem. To buy your gift certificate now, click the button below:
For more information on live appliance repair help, click here.