Christmas is just two days away and many of you still haven't figured out what to get for that kind-of special someone. Many of you fixit dudes and dudettes have emailed me with much weeping and gnashing of teeth about your dilemma, turning to the Samurai to offer the solution, as I have so many times before. Rest easy, my ruffled grasshoppers and unflutter your delicate wings flapping in the winds of anxiety: the Samurai has heard your plaintive cries and once again dashes in to save your sorry butts.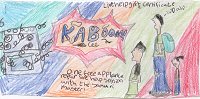 Now, just in time for Christmas, the Samurai and Fixitnow.com are proud to offer Live Help Gift Certificates. Give that special but almost-forgotten someone a truly special gift, even more precious than anything you could buy from the jewelry department at the Wal-Mart. Yes, you can give the gift of live appliance repair help with the Samurai. You can be heroes, just for one day. With live appliance repair help, the Samurai will help them get that stove or refrigerator or any other major appliance fixed right now.
Single-repair gift certificates are only $25 and are good for live help on any major appliance problem. Got a handy guy or gal in your life and not sure what to get 'em? Instead of wasting money on another lame tool that they'll never use, buy them a one-year subscription to live appliance repair help for only $45. The gift certificates never expire and make an impressive presentation in even the ugliest Christmas cards. This year, give the gift that says, "Get the damn thing fixed already, you bonehead!"
All gift certificate deliveries are guaranteed to arrive before Christmas so come git you one!
| | |
| --- | --- |
| To purchase a single-repair live appliance repair help gift certificate for $25, click this button: | |
| To purchase a gift certificate for a one-year subscription to live appliance repair help for $45, click this button: | |

For more information about live appliance repair help here at Fixitnow.com with the Samurai, click here.