Broken appliance?
       Don't wanna spend much money?
              Suspicious of greedy repairmen?
Call Monkey Boy Appliance Repair!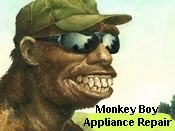 1-800-MONKEYS
Appliance broken but you don't want to hire one of those over-priced, greedy repairmen just to replace a simple part? Then don't! Put your wallet at ease by calling for a genuine parts-changing monkey from Monkey Boy Appliance Repair.
At Monkey Boy, we absolutely guarantee that you'll never get one of those greedy, overpriced humans…because we don't have any! All Monkey Boy parts changers are imported directly from the deepest jungles of Africa and then genetically tested to ensure that they are 100% genuine simians, free of any traces of human genetic material.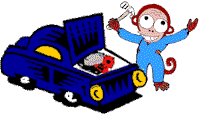 Then, we put all our verified, 100%-pure monkeys through a proprietary 30-minute training program on changing appliance parts using, not one, but three different hammers! And some of our fully-trained monkeys may even be housebroken, too!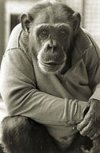 Just think, you could have your appliance fixed right now by a fully-trained and possibly-housebroken Monkey Boy parts-changing monkey. And, best of all, Monkey Boy Appliance Repair caters to special customers just like you so you know our prices are cheap, cheap, cheap!
If you have a broken appliance, don't just call the first human bubba you find in the Yellow Pages. Call Monkey Boy! Monkey Boy parts changers are here lounging around, eating bananas and scratching themselves while awaiting your call so, please…
Call Monkey Boy now!
1-800-MONKEYS
Because you deserve the very cheapest appliance repair.
Disclaimer: Proven effective in laboratory experiments. Not responsible for bites or scratches inflicted on occupants at the home. Keep away from pets and small children. Monkeys may suddenly fling feces without provocation. Avoid contact with skin. Don't quote me on that. Don't quote me on anything. Other restrictions may apply. No warranty, express or implied, regarding the efficacy of the repair or the quality of the workmanship. Generally speaking, you get what you pay for.