Timing is everything and we timed this one right. After struggling up the Falling Waters Trail to the summit of Little Haystack on the Franconia Ridge, our eyeballs were treated to a feast of dramatic mountain vistas, White Mountain style. Here, see for yourself.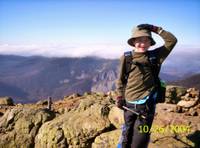 Sam on Little Haystack Mountain
After summitting Little Haystack, we headed north on the ridge to the summit of Mt. Lincoln.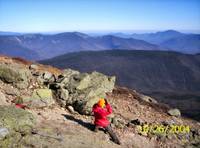 Stephen is Blown Away by the Views!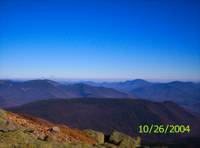 Looking into the Pemigewassett Wilderness from the Franconia Ridge
Our original plan was to the hike the "T" (Little Haystack, north to Mt. Lincoln, doubleback to Little Haystack, then continue south to Mt. Liberty, doubleback to Little Haystack and head back down.) But we spent so much time lollygagging and feasting on eye-candy that we ran out of time and headed back down after Mt. Lincoln. We got back to the van just as the sun was setting. Sunset comes early up here in pre-winter Yankeeland, even earlier in the mountains.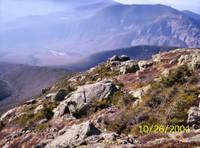 Misty View toward Cannon Mountain
Take a hike!