Kenmore gas dryer-Mod.#11077694100

No fire–replaced ignitor–still no fire–checked for voltage to valve
assy.–none–checked safety switches on fire box & vent–normally closed condition
okay–how do I check the centrifical switch & pressure switch for
proper operation?

_______________________________
The above message was sent when you were offline, via your HumanClicked site.

Message sent from IP: 64.12.116.76
How 'bout instead of guessing which part might be bad, we use the dryer's schematic diagram to determine which part is bad based on actual measurements? Sound like a plan? 'Course it is: I am the Samurai.
Here's a typical schematic diagram for a Whirlpool / Kenmore gas dryer (Note: the diagram for your dryer may be significantly different depending on features and model. Always endeavor to use the exact diagram that came with your dryer.)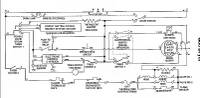 Typical Schematic Diagram for a Whirlpool / Kenmore Gas Dryer (lint filter on top panel)
Are you still with me? Ok, recalling your statement that the gas valve coils were not getting voltage, I see four components in the example diagram that could break the circuit to the gas valve coils: timer, hi-limit thermostat, operating thermostat, and thermal fuse. Any one of these can fail open and break the circuit to the valve coils.
Pop Quiz: What test would you do to test each component? Discuss amongst yourselves…
Finished already? Ok, survey said? Ding, ding ding! That's right: continuity test–you're a quick study!
Bonus question: how do you test continuity?
Tic, toc, tic, toc, tic, toc…
Done already? Let's see…mm hmm, hmmm, yes: set the multimeter to the lowest ohms scale and remove at least one wire from the component being tested to isolate it from the rest of the circuit, then you test the component like this. Yes, good work!
Armed with this sacred appliance wisdom, you may proceed with diagnosing and repairing your insolent appliance. Buy the parts you need here.
To learn more about your dryer, or to order parts, click here.