(Click the pictures for a larger view.)
If yours is the gas version, the gas burner assembly is conveniently accessed from the front of the dryer by simply removing the quarter panel below the door panel. You'll see the assembly on the right hand side, as shown below.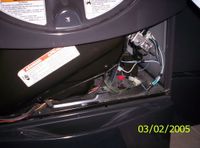 Gas Burner Assembly
All appliances these days have a tech sheet hidden somewhere inside of them. To find the tech sheet on the Duet dryer, you have to remove the top panel and thar she blows, as Samenilla points out below.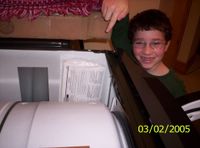 Tech Sheet Location
If you need to get deep into the guts of this beast, such as to replace a belt or change the venting from the side to the back, then you'll need to remove the door panel assembly. To do this, you first need to remove the top control panel. You'll undo some screws, as shown below, and then the control panel slides up and out. Be sure to secure this panel because if it slops around, you could damage some delicate ribbon connectors. With the control panel lifted off, you have full access to all the mounting screws for the door panel. The rest is trivial and I won't bore you with it.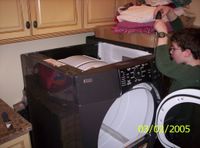 Remove Top Panel to Remove Control Panel
Ok, tear 'em up!
For more information about your dryer or to order parts, click here.