This was my second post-back surgery hike carrying a full winter pack. (The first was last week to Ethan Pond– it was so cold that I couldn't take any pictures so it wasn't worth posting anything on it. Nice hike, though.) Things are progressing well and, while I still have some healing to do, it hurt less this time than on the Ethan Pond hike. That's encouraging progress! Like the Ethan Pond hike, this hike up Mt. Kearsarge was selected for mellow grades and short distance (about six miles).
One of the most astonishing things I saw on this hike was moose scrape that was more than 12 feet high! (For those of you who don't know what moose scrape it, it's marks left on trees from male moose scraping their antlers during rutting (mating) season.) That is NOT a moose I'd like to cross paths with during rutting season! You can click the picture below for a larger view: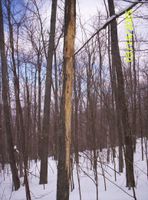 Moose Scrape on Mt. Kearsarge
But it was a gorgeous day for a hike: partly cloudy skies, mild breeze, great visibility, and with temps in the upper 20's it was warm enough to get subtle hints of spring in the air. In the photo below, I was looking out toward Ragged Mountain. If you click the picture for the larger view, you'll see Bubba on the trail. Yeah, he da goodest, bestest Bubba ina whole wide world!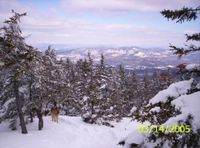 Viewing Ragged Mtn. from Mt. Kearsarge
And in this one, I was looking toward Mt. Cardigan. In the larger view, you can see its snow-capped twin peak in the center of the picture.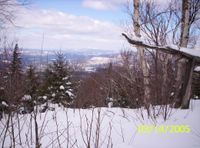 Looking Toward Mt. Cardigan from Mt. Kearsarge
Coming next: Ragged Mountain. Stay tuned, you won't wanna miss it!